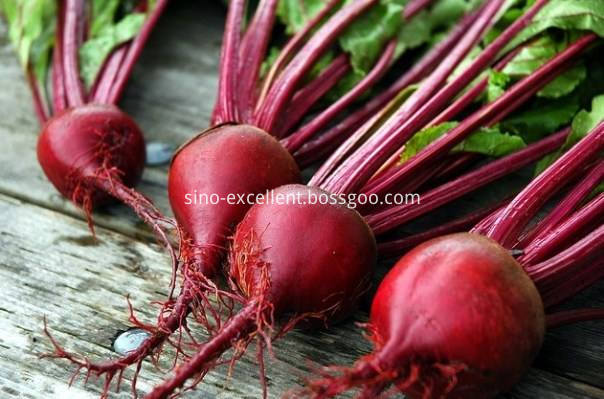 Beetroot, formerly known as: beet, alias: amaranth, Latin name: cockroach, beet, biennial herb, root conical to spindle-shaped, juicy. Stems erect, many branches, with ribs and stripes. The basal leaves are round and round, widely cultivated, and vary greatly. They are divided into several subspecies, varieties and variants. There are also many varieties cultivated in China, and the source of introduction is very mixed. Sweet. It evolved from a wild plant called sea beetroot that grows on the Mediterranean coast. Beetroot red flames are called fire dishes. Beetroot leaves are also an edible vegetable.
Beet (scientific name: Beta vulgaris L.) is a biennial herb of the family Polygonaceae, which has a root cone to a spindle shape and is juicy. Stem erect, basal leaves oblong, petiole, uneven shrinkage above, below projections thick veins, entire or slightly wavy, stout petioles, stem leaves alternate, smaller, set by flowers, floral lobes article The shape or the narrow circle is round, and the upper part of the cell is slightly fleshy. Seeds are lenticular, reddish brown, flowering from May to June, and July results.

Beets are a major source of sugar other than sugar cane. Vegetable beets are commonly cooked or marinated in the United States, and Russian beet soup is a traditional beet soup from Eastern Europe. Sugar beet is the most important commercial type, and the cultivation of fodder beet and leaf beet is the same as most crops.